NEW WEBSITE
Welcome to my personal site.
At present, I am balancing the equivalent of 5 "full" time jobs (not all listed below). As you can probably guess, I have not been seen at many parties as of lately.
Please feel free to contact me if you have any questions at all.
PHOTOGRAPHY BOOK SERIES
To be announced in 2015.
I am absolutely, totally, obsessively passionate about photography as a medium. For a long time I thought about focussing on content that could allow me to pursue a professional career as a photographer.
As ist turned out, though, only part of the topics I am passionate about can be conveyed via photography. For this reason I decided to concentrate my efforts on the stories instead of the medium. Some content will be told via photography, some not.
This is the only decision that makes sense to (and for) me in the long run.
FINGERALPHABET WORD SEARCH PUZZLES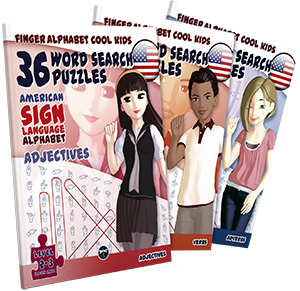 I am so happy to tell that the first three books of the ASL-WordSearch Book series for kids are now available on Amazon: ADJECTIVES
, VERBS
, and ADVERBS
(affiliate links ;) They come at no cost to you. I'd be really thankful if you used them.)
After months of preparations it is an amazing feeling to hold real books in my hands – and books I am proud of!
I jumped through many hoops to make these publications as inexpensive as possible which was limited by the production costs and the low print run.
The first bundle, though, and the thicker books that will follow, will allow for lower prices and propper discounting for retailers.
We hope it will prove to be a win-win situation for all who are interested in learning sign language alphabets while having fun solving word search puzzles.
LITTLE HUNTERMAN

This is a fun cartoon based on my own dog Hunter that started as a means to test drawing apps on my iPad. It surprised me by becoming quite popular on some social media sites.
With currently over 20.000 fans on Facebook, collected in 11 months, I am starting to feel the responsibilities and challenges of keeping a cartoon project updated.
I currently have 3 publishers interested in acquiring the rights for the fist book but have not decided on a definitive route yet. I guess I will need to get used to the idea of being a cartoonist, first. Life is full of surprises!
I am thinking about using this project to try my hand at serialization, most likely through the official website itself. Feel free to check it out there, and in case you would like to become a beta reader, sign up for itand join the crazy (and unexpected) ride!
ELIAS / The Mermaid Mystery
What happened to Elias, the next book of the Mermaid series?
I get asked this a lot.
I have to confess that I have been putting this story aside for the last months due to very pressing projects in other fields.
Between publishing Marie and outlining Elias I decided to accept the nomination for a national (German) prize and thus I had to change the focus of my work for a longer period of time. This event also influenced my thoughts on how to proceed with my writing and which projects to focus on in the future.
I have currently listed Elias on my publishing schedule for 2015.
PUBLIC SPEAKING / PUBLISHING RESOURCE LIST

I have not done much public speaking lately due to lack of time.
You might have seen me on the Frankfurt Bookfair last year (2013), where I spoke about how I went about the publication of the Fingeralphabet.org books – the challenges and rewards of it – and how others could follow this path, especially if they had a project that was a bit more commercially viable than my own one.
For the purpose of my speech I had prepared a free publishing resource list. And even though it might be a bit dated here and there – because a lot happened in this last year and even more is possible now than a couple of months ago – you can still get it here.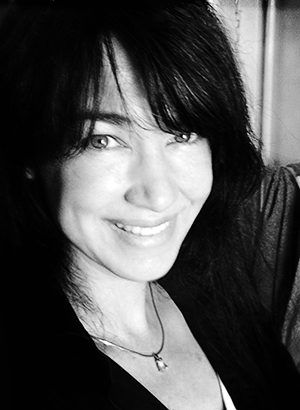 BIO
With a background in economics, computer science, and architecture, I have spent the last 20 years working my way through the wi(l)de and rich field of visualization. Ranging from Art with at capital letter "A", to 3D Animations for a leading German research institute, to documentary photography for NGOs in Africa, to layout design for international commercial agencies and, more recently, my very personal charitable project, which has led me into the field of writing and publishing.
The medium and techniques used have always been chosen in connection to the desired outcome.
Currently, I am focussing on my pro bono project Fingeralphabet.org and the books to support the project financially.
LANGUAGES
Fairly well in speech and writing:
German, Portuguese, English
Out of practice, but ok to read and understand:
Spanish, French, Italian
PHOTOGRAPHY
(update soon)
OLD Photography WEBSITE
The site is safe to visit, even though the theme is old and the sliders are pre-iPad.
The content will have to be transitioned into a new environment eventually.
CONCEPT ART & DESIGN
LassalMedia
ABOUT
LassalMedia is one of Germany's top providers of high quality illustrations, visualizations and layouts. The idea is to translate concept (text) into images, which can then easier be understood, sold or implemented in sales pitches, as movies, campaigns or otherwise.
CLIENTS
LassalMedia 's clients are mostly international commercial and film production agencies, worldwide corporations and public and governmental institutions and organisations. ( >> clientlist)
PORTFOLIO
80% of LassalMedia's assignments are for commercial agencies and pitches. Most of this work is confidential and thus not in the public portfolio.
Only recently have I started to accept more final work – work that will end up being published in some form or another.
LassalMedia does not offer a style of its own, instead we chose the style that will best meet our client's needs. The portfolio's main point is not to show quantities of storyboards and animatics, but rather a certain mainstreamed variety – to help a potential client in defining his or her direction.
Visit the public part of the portfolio by following this link.
CONTACT
LassalMedia
Windmuehlstrasse 2-4
60329 Frankfurt am Main
Germany
www.lassalmedia.com
info(@)lassalmedia.com
LITTLE HUNTERMAN
The Adventures of A Little Cartoon Dog And His Friends
ABOUT

Little Hunterman is the cartoon dog version of a young Parson Jack Russell Terrier called Hunter.
What once started as simple "daily" cartoon featuring the life of a little dog called Hunterman, his best friend Flynn (the rubberduck), his comrades, and humans, is now transitioning into something more complex: a serialized publication.
CHARACTER
Like most of us, Little Hunterman is a walking controversy.
He is scared of open windows but loves to be outside, does not like dog food but loves found left overs (and croissants), detests changes in his holy routines but loves exceptions if they include rat-chases.
Little Hunterman has a strong sense of order and how things are supposed to be. He hates monitors, displays, tvs and all the things that humans keep starring at for hours and hours instead of playing with him.
PUBLICATIONS
More information about upcoming serializations, soon.
You might want to join the 20.000+ fans on Facebook, which is currently the place that is most up to date.
If you are interested in becoming a beta-reader for the upcoming books, please sign up so I can contact you.
MERCHANDISING
CHARITABLE ILLUSTRATIONS 2014 / MERCHANDISING
more information about the royalty donations to animal welfare here.
CAFEPRESS SHOP (English & translations)
SPREADSHIRT SHOP (German)
FINGERALPHABET.ORG
RELIABLE international sign language alphabets
ABOUT
Fingeralphabet.org is a private project aiming to provide reliable, ready-to-use illustrations for international sign language alphabets. The material is free for non commercial purposes.
PURPOSE
The sole aim of this site is to provide high quality manual alphabets – from as many countries as possible, as correctly as possible, for as many people as possible.
These images currently come in 300dpi and are licensed under a Creative Commons 3.0 License. Please read the term of this license carefully.
HOW IT BEGAN
It was one postcard design that actually initiated the fingeralphabet project. The idea of having a website for free downloads, evolved from the cheerful reception the postcard got from colleagues, family, friends and those who got to see it in advance. More precisely the idea evolved from what I saw and heard from the local deaf community, where I had the illustrations revised.
The postcard's first appearance was at the Frankfurt Bookfair in October 2006, where it was distributed for free.
CONTACT
www.fingeralphabet.org
contact(@)fingeralphabet.org
FUN FACT
All the books that I have published so far, are rooted in Fingeralphabet.org.
To test editors, proofreaders, translators, publishing alternatives, software, printers, and work-procedures I fell back on a stack of stories that I had originally privately written for my brother and his kids.
The simple reason for using these stories was that they were readily available. It came in handy that one was heavily illustrated and one was pure text – this meant I could test every aspect and dive right into complexity. Given that the Fingeralphabet-books had to be inexpensive, it meant that I would have to be able to do most of the heavy lifting myself. I needed to know if that was possible (especially timewise) before committing myself.
Due to all the testing, these are now probably the best edited children's books ever, having, among other things, gone through 4 different editors.
While I was doing all of this to get a feeling for the publishing process and workflow – it never crossed my mind to become an author for children's books. Not having children of my own, I though I was not really qualified for such a demanding job. But once I tasted it, I found it very rewarding. And I would have more children's books out by now had I not been derailed by my "adult" projects so very much.
So that is why I have children's books under my name.
And I am quite proud of it.
By the way, all the children's books will now also be published by LegendaryMedia Publishing.
Wow, I'm very impressed
with your work –
beautiful presentation!
Love the graphics.
Dr. Rachel McKee
Vielen Dank nochmals für Ihr schönes Alphabet.
Dorota Czeczka
That is brilliant! Thank you for your hard work!
…
The Kindle ebook looks cool!
Caroline McGrotty
Good work what you do,
keep it up.
Ceilidh O'Sullivan
You are really doing a great job and I know that many deaf people over the world will appreciate [it].
Keep up the good work!
Ms. Phillipa Sandholm
You did a lot of work to all this!
the drawings look great!
Ludwina Degryse
Kudos to you, for the
good work you are doing.
George Pinto
Wir freuen uns Ihr Fingeralphabet verwenden zu können!
… Vielen Dank nochmals für Ihren Einsatz und Freundlichkeit.
Helmut Schmidt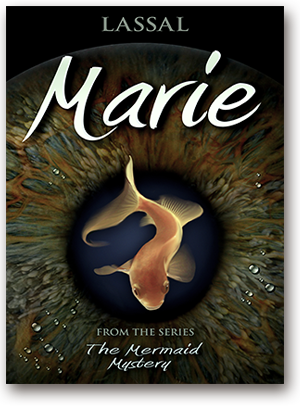 Marie – The Mystery of the Mermaid's Eyes
ISBN 978-3-86469-059-4 (mobi)
ISBN 978-3-86469-036-5 (ePUB)
LegendaryMedia Publishing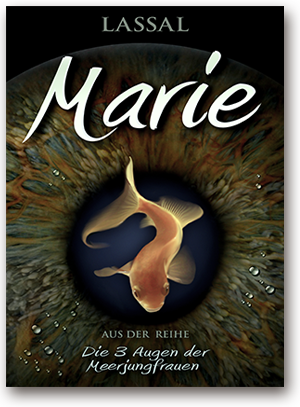 Marie – Die 3 Augen der Meerjungfrauen
ISBN 978-3-86469-003-7 (ePUB)
LegendaryMedia Publishing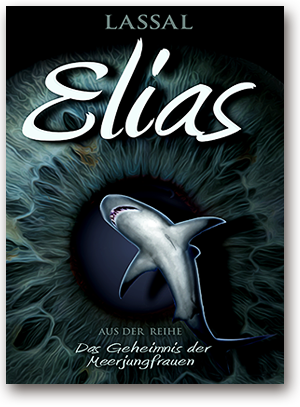 Elias – The Mystery of the Mermaid's Eyes
ISBN 978-3-86469-051-8 (mobi)
ISBN 978-3-86469-054-9 (ePUB)
LegendaryMedia Publishing
Please find the already published books from the Fingeralphabet BASIC series here.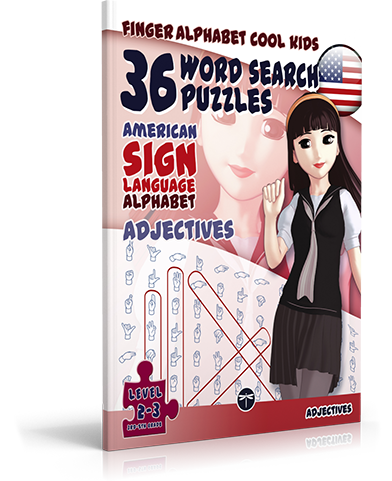 Finger Alphabet Cool Kids – USA –
36 Word Search Puzzles with the American Sign Language Alphabet
– ADJECTIVES –
ISBN 978-3-86469-104-1
More information: LegendaryMedia Publishing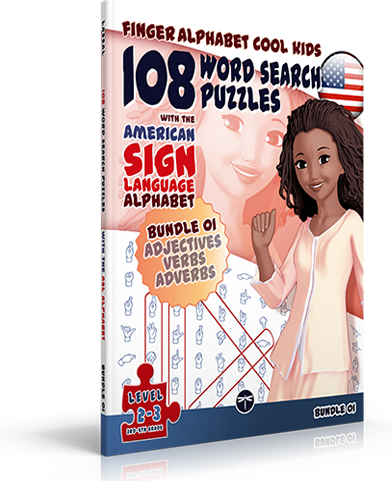 Finger Alphabet Cool Kids – USA – Bundle 01
108 Word Search Puzzles with the American Sign Language Alphabet
– BUNDLE 01 –
ISBN 978-3-86469-149-2
More information: LegendaryMedia Publishing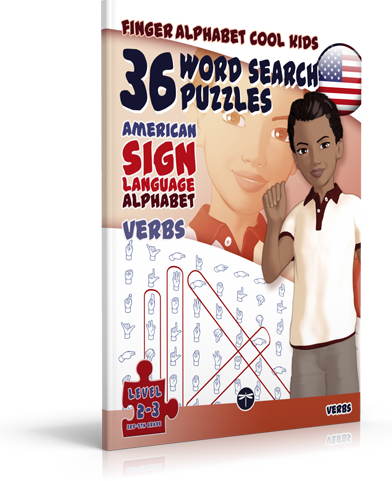 Finger Alphabet Cool Kids – USA –
36 Word Search Puzzles with the American Sign Language Alphabet
– VERBS –
ISBN 978-3-86469-106-5
More information: LegendaryMedia Publishing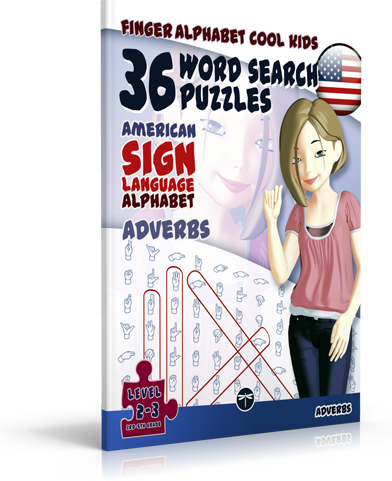 Finger Alphabet Cool Kids – USA –
36 Word Search Puzzles with the American Sign Language Alphabet
– ADVERBS –
ISBN 978-3-86469-108-9
More information: LegendaryMedia Publishing
BOOKS IN PROGRESS
Excerpt
ELIAS – The Mermaid Mystery

16%

Once Upon A Time A Snowflake

5%

Once Upon A Time A Dragon Egg

9%
---
FICTION / Illustrated Novels
Little Hunterman – First Year Cartoons

55%

Little Hunterman 01

20%

Little Hunterman 02

12%
---
(NON) FICTION / Photography
To be announced

0%

To be announced

0%

To be announced

0%
NON FICTION / FingerAlphabet
Cool KIDS WordSearch Book – Verbs (US) // PUBLISHED!

100%

Cool KIDS WordSearch Book – Adverbs (US) // PUBLISHED!

100%

Cool KIDS WordSearch Book – Bundle 01 (US) – Adjectives, Verbs, Adverbs // PUBLISHED!

100%

FingerAlphabet Word Search Book – Large Print 01 (US)

10%

FingerAlphabet WordSearchBook Vol.1 (US)

5%

FingerAlphabet WordSearchBook Vol.2 (US)

5%

FingerAlphabet WordSearchBook Vol.3 (US)

5%

FingerAlphabet WordSearchBook Vol.4 (US)

5%

FingerAlphabet WordSearchBook Vol.5 (US)

5%

FingerAlphabet WordSearchBook Vol.6 (US)

5%

FingerAlphabet WordSearchBook Vol.7 (US)

5%

FingerAlphabet WordSearchBook Vol.8 (US)

5%

FingerAlphabet WordSearchBook Vol.9 (US)

5%